Want to quit buying juices that aren't fresh and full of preservatives? If you're looking to drink natural, fresh juice and want to be certain about its quality, a good cold press juicer is the best way to go.
This way, you can keep most of the nutrients and drink higher quality juice.
In this article, we'll list the best cold press juicers that will give you top-notch juice quality.
Cold Press Juicers: Comparison Table
The 7 Best Cold Press Juicers for 2019: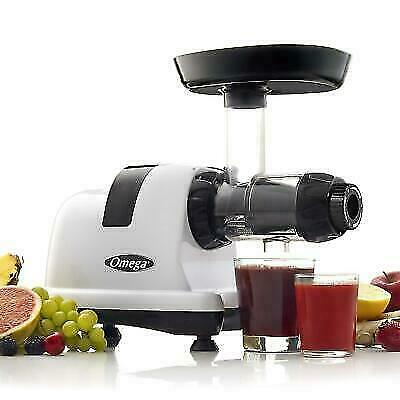 The Omega J8006HDS's 80 RPM may seem a little slow for a 2 HP motor but that's the secret of retaining the most nutrients and yielding the maximum amount of juice.
It's capable of extracting the maximum amount of vitamins, juice, taste, and nutrients from the minimum amount of fruits, vegetables, wheatgrass, and leafy greens.
Moreover, it helps minimize the heat buildup and oxidation promoting health enzymes.
Another great advantage about the Omega J8006HDS can work with various types of materials as it can turn nuts into butter, extrude pasta, grind coffee and spices, mince garlic and herbs, make baby food and frozen desserts, as well as whip up soy milk in the blink of an eye.
On top of that, the Omega J8006HDS comes with a 15-year warranty that covers performance and parts –a guarantee that it will be durable and reliable.
The Omega J8006HDS work incredibly well to give you the best juice yield from your fruits and vegetables.
To minimize heat build-up and oxidation in order to maximize the nutrients, taste, and healthy enzymes promotion, the Omega NC900HDC works on a slow 80 RPM speed.
This helps squeeze every last bit of the fruit to get the most juice out of it without leaving any vitamins or nutrients out.
It has a dual stage masticating extraction mechanism to produce premium-quality juice.
Moreover, the Omega NC900HDC is quite versatile and can work with fruits, vegetables, wheatgrass, and leafy greens. Not only that, but it also has a nutrition center to extrude pasta, grind spices and coffee, make nut butter, baby food, frozen desserts, mince garlic and herbs, as well as whip up soy milk.
Despite its powerful motor and speed, the Omega NC900HDC operates rather smoothly.
On top of that, it has an adjustable end cap with 5 settings to maximize juice extraction and output. It also automatically ejects pulp from your juice.
To cover you in terms of performance and parts, the Omega NC900HDC comes with a 15-year warranty.
With an alluring design, good performance, and a price that doesn't break the bank, the Omega NC900HDC is one of the best cold press juicers you can get.
The wide 3-inch feeding chute on this BPA-free juicer allows you to work with various fruits and vegetables.
Moreover, the Kuvings B6000S puts the user's comfort in mind and is both easy to assemble and to clean.
It has a smart cap, convenient and spotless stop dipping in order for it to easily rinse itself with an external rotating brush.
Its brushless motor makes it very safe to work with.
On top of that, the fact that its produced juice has a 72-hour shelf life makes it a very suitable commercial cold press juicer and not only as a home one.
The Kuvings B6000S works smoothly and produces high-quality juice that is pulp-free. Besides being safe and easy to use, it's suitable for both beginners and enthusiasts alike.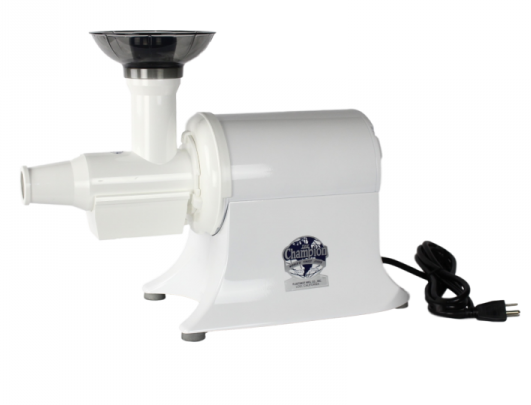 The Champion G5-PG710 comes with a stainless steel high-gradable polymers that make it quite effective and incredibly sturdy.
This juicer comes with a heavy-duty motor that works on 1/3 horsepower and gives you a 1,725 RPM speed. This combination enables the user to grind and extract almost all kinds of material.
Typically, the centrifugal juicers are the ones associated with such high speeds. But the beauty of this juicer is that its a masticating one with a centrifugal's juicer speed.
Its installation and set up is very easy. However, the fact that it's heavy makes it more suitable for staying in one place instead of moving around.
The Champion G5-PG710 generally has a long life which is extended by its long-term warranty. With its high-quality juice and fast, reliable performance, it gives you great value for your money.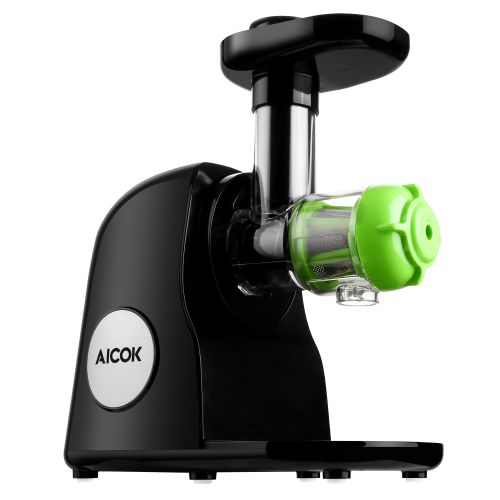 One of the most prominent features about the Aicok Juicer comes with a 7-segment spiral system.
The first one does the cutting, the second breaks, the third squeezes, the fourth does the milling, the fifth separates, the sixth grinds, and the seventh does the extraction.
Thee steps produce the maximum juice yield without compromising any nutrients as well as reduces oxidation.
Its 80 RPM slow masticating and grinding doesn't create much heat while keeping the vitamins, enzymes, minerals, and nutrients.
Moreover, the Aicok Juicer comes with less foaming, no clogging, and quiet, stable performance.
You don't even have to worry about cleaning as its parts are dishwasher-safe and it's very easy to clean.
It also has a separation function which separates the juice and pulp perfectly.
Finally, the 2 years warranty isn't the best but it's enough to keep you going for a good amount of time.
Although the chute of this juicer isn't the biggest so it obliges you to cut your inputs into smaller parts, it still does combine a lot of great features and works with a very intricate system.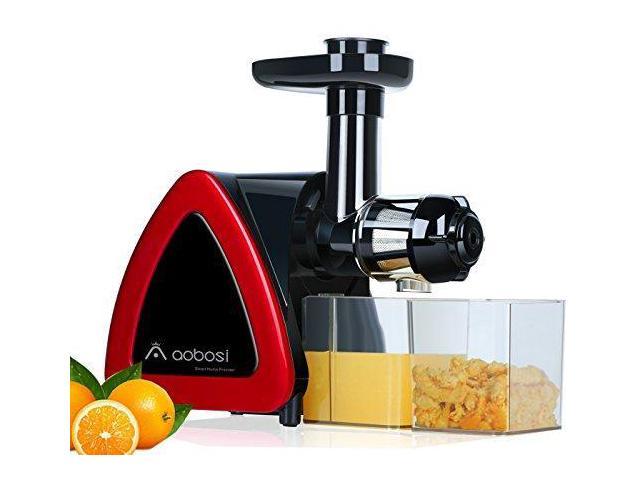 Working at an ample speed, the Aobosi Slow Masticating Juicer can extract a variety of vegetables, fruits, and greens.
It's especially great with greens and maintains the juice's pure color, natural taste, nutrients, and vitamins.
The slow 80 RPM masticating process completely separates the juice and the pulp. So it results in a higher-purity juice with more nutritional value.
Furthermore, it works at less than 60 decibels, so it doesn't cause much noise.
The Aobosi Slow Masticating Juicer also comes with a safety lock design which helps you assemble or disassemble it in a few minutes.
On top of that, the reverse function doesn't get it stuck and helps you clean it up.
Finally, the BPA-free components are easy to clean and are dishwasher-safe.
If you're alright with adding some time into cutting your vegetables and fruits, the Aobosi Slow Masticating Juicer would be a great choice for you. It's very affordable and gives you a great bang for your buck.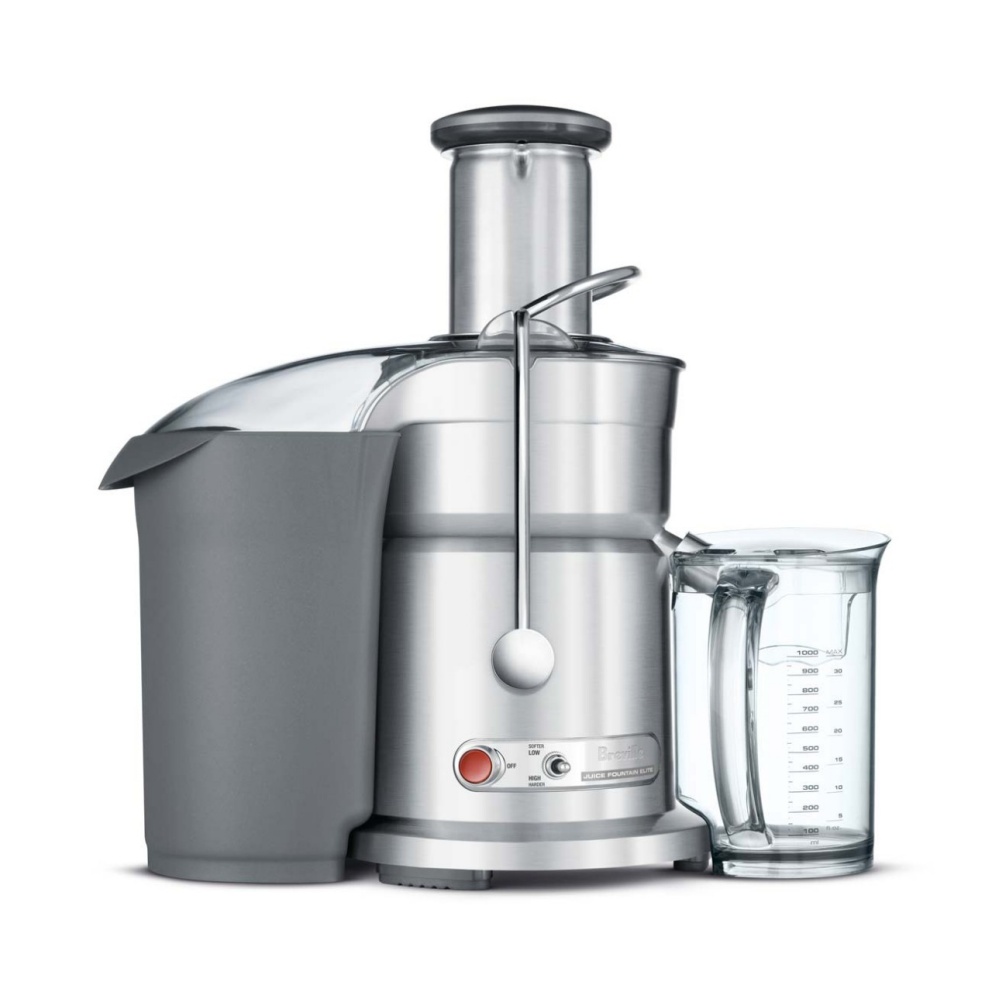 The 1000-watt juicer is equipped with 2-speed controls. The high one is at 13,000 RPM and the low one is at 6,500 RPM.
The ultra-sharp titanium reinforced cutting disc comes with Italian micro-mesh filter around it to extract around 30% more juice and 40% more minerals and vitamins than rivals.
Moreover, the Breville 800JEXL comes with die-cast steel housing to extend its durability and strength.
The feed tube is 3-inch wide so it can accommodate whole vegetables and fruits.
Finally, the locking arm's flexibility is a nice addition as it can move up to ¼ an inch in all directions.
The Breville 800JEXL is one of the best cold press juicers you can find on the market. Although it's not the cheapest option, it gives you great value for the money.
What to look for when you're buying a cold press juicer?
1. Versatility
Many juicers perform functions of other kitchen gadgets, so they offer you extruding pasta and blending.
Some even enable you to grind coffee and spices, make butter from nuts, as well as minced garlic and herbs.
So make sure the one you get is as versatile as possible –especially if it's not a low-budget one.
2. Pulp separation system
Getting a juicer with an effective pulp separation system will spare you a lot of manual separation.
A big pulp bin also minimizes the number of times you'll have to empty it out.
3. The quality of the juice
This one is quite an elephant in the room. The pulp, foam, and froth in the juice can all take away from the quality of it.
That's why you should make sure to get a high-quality cold press juicer which rids you of all these byproducts.
4. The size of the feeding chute
The higher the quality of the juicer, the larger the size of the chute.
And the larger the size of the chute, the less you'll have to chop down your ingredients –which invariably increases their oxidation.
On top of that, wider chutes save you some preparation time.
5. Speed
No one likes waiting for their juice to be ready, but if the quality is that good, it could be worth the wait.
Although cold press (masticating) juicers are slower than centrifugal ones, they are quite superior as they produce juice of better quality.
Usually, a masticating juicer will work at 80 RPM and produce a cup of juice in around 5 minutes.
6. Durability
Always look for stainless steel components as they are more durable than plastic ones.
The more durable the machine is, the fewer problems you'll face with it.
Moreover, the warranty also plays a major role in durability.
Not only does it guarantee the quality, but it also helps you rest assured that if something should go wrong with your juicer, the manufacturer will solve it for you.
Try looking for at least a 5-year warranty.
Final Thoughts:
Cold press juicers are generally known to make better quality juices that retain most of the ingredients' nutritional value. If you're looking for the best cold press juicer on the market for the overall performance, you should go for :
The Aobosi Slow Masticating Juicer and the Aicok Slow Masticating BPA-Free Cold Press Juicer are the best low-budget options.
If you're looking for something that combines between affordability and quality, you should go for the Breville 800JEXL Juice Fountain Elite 1000-Watt Juice Extractor or the Omega J8006HDS Juicer.
The Champion G5-PG710 Juicer has the great speed of performance, while the Kuvings B6000S BPA-Free Whole Slow Juicer is the best compact juicer with an extended warranty.
The Omega NC900HDC Juicer is the top-notch choice as it's incredibly versatile and is equipped with many helpful features.