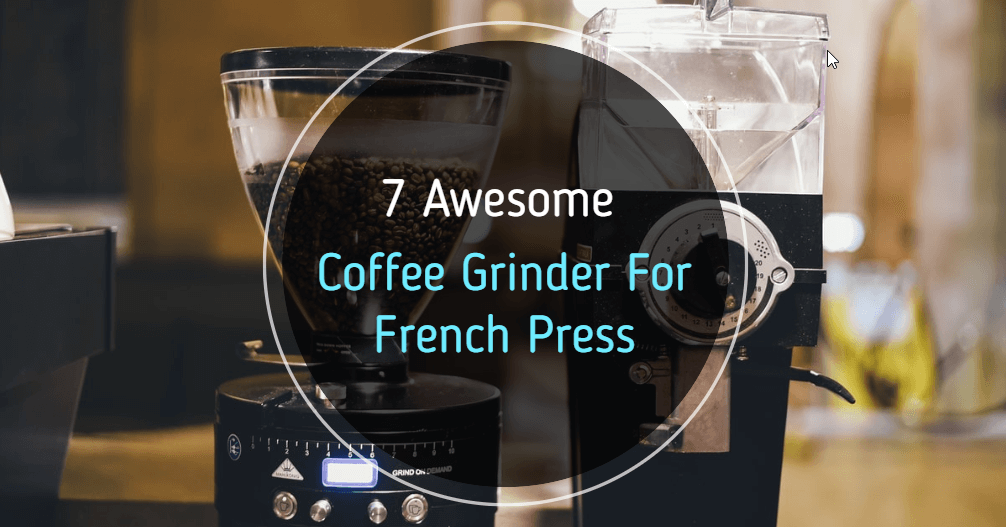 When it comes to getting the perfect cup of French press coffee, it all begins with the grind. It may sound that grinding coffee is as simple as grinding any other ingredient. But only a true coffee lover can understand how important it is for the coffee to be grinded well. If you are one of them, then you require the best coffee grinder for french press.

The coarse grind will not justify the flavor of your coffee and grinding it too fine will result in bits of coffee bean passing into the press through the screen. Grind beans are available at the store, but they are only good enough for immediate use, as they lose their flavor after some time. To get the perfect cup of coffee without going to buy grind beans every time, all you need to do is get a good bean grinder.

To help you through this kind of tricky process, we have reviewed the top seven coffee grinders for French press with in-depth details so that you won't miss any important info. Also, read our review for the best 4 cup coffee maker.

We have also added a buying guide later in case you want an insight into the factors that should be considered.

Comparison Chart
Guide to Best Coffee Grinder For French Press:
FEATURES
Dimensions

: 7.4 x 12 x 16 in

Material

: Stainless Steel

Weight

: 4.5 lb

Warranty

: 2 Years
Additional Features:
15 types of grinding
Quieter operation
Works faster
Durable design
View Price on
Amazon
OXO BREW conical burr coffee grinder has a premium profile, and the design is what you will see in a high-end coffee grinder. The top has a fun shaped hopper that hold-ups the coffee and later empty the contents into the grinding mechanism.

The grinding mechanism that feeds the content to stainless steel receptacle. The grind can be adjusted between 15 types of settings which depends on your taste in coffee. You can choose a coarse grind for French press or a fine grind for espresso.
In contrast to other grinders used at home, the OXO Brew Conical Burr Coffee Grinder is much quieter and faster. That can judge the speed the grinder can churn 23 grams of coffee in around 9.4 seconds.

The other coffee grinders take quite longer in contrast to this. Besides speed, the consistency of grind size is also important to consider.

This coffee grinder delivers a fine size of coffee ground so you can get your perfect cup of coffee and that too in no time.

Bottom Line:
With a good degree of grind control and improved grind consistency, the OXO Brew Coffee Grinder is worth the buy. The sturdy construction makes it the best quality coffee grinder for the price.
FEATURES
Dimensions

: 4.7 x 6.3 x 13.8 in

Material

: Black Plastic

Weight

: 6.8 lb

Warranty

: 1 Year
Additional Features:
Extremely durable
Sharped-edge grooves makes the grinding excellent
Adjustable gaps between the burrs
40 different settings to choose from
View Price on
Amazon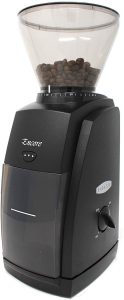 With a strong, sturdy look, the Baratza Encore is the best coffee grinder for French press as it offers more compactness in contrast to other coffee grinders. Although it is smaller in size, the coffee grinder is slightly heavier in weight. However, this is dominated by the other key features of the grinder.

The whole grinder has a durable look and feels due to the extra weightage and tough plastic chassis that has been used in the manufacturing of this grinder. Besides the sturdy construction, the Encore coffee grinder has a profile similar to other grinders.

The top feature is the bean hopper that flows the beans to a pair of conical burrs. The burrs rotate close together with only a small gap in between. The sharp-edged grooves improve the process of grinding are made from heavy steel and are driven by a strong DC motor.

You can easily swivel the hopper from left to right, which can adjust the gaps between the burrs. The Baratza Encore comes with a total of 40 different settings that can be used to adjust the coarseness of the bean grind.
Bottom line
If you are looking for a coffee grinder that you can rely on for a consistent grind, then the Baratza Encore will certainly not disappoint you.
#3 Bodum Bistro Electric Grinder – Best Coffee Grinder with Continuously Adjustable Grind
FEATURES
Dimensions

: 7.6 x 7.1 x 12.5 in

Material

: Plastic, Rubber, Stainless Steel

Weight

: 3.2 lb

Warranty

: 2 Years
Additional Features:
Aesthetically pleasing
Static-free
Less noisy
Easy to clean
View Price on
Amazon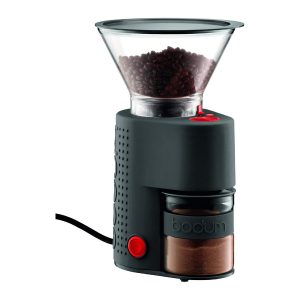 If you are a beginner who is looking for an entry-level best coffee grinder for french press, then this one won't disappoint. Bodum has all that you would need in mind and it is reflected in the design, affordable price, and features of this coffee grinder.

It is an ideal electric burr grinder if you are upgrading from a standard blade grinder. In design, the Bodum Bistro grinder looks more like a high-end restaurant's coffee grinder where the appearance makes it the highlight of your kitchen counter.

One significant feature of this grinder is that it has a frictional clutch which will make a rattling noise if there is a stone in the burr.

The Bodum Bistro is virtually static-free, which makes it quite easy to clean. You won't have to deal with any oil and sticky coffee bean residues on the burrs.

Bottom Line:
Although it has a small footprint, the Bodum Bistro coffee grinder has a big heart. It is a well-suited coffee grinder for entry-level, and with its sturdy construction, it won't cost you a hefty amount.
#4 Mueller Ultra-Grind – Best Coffee Grinder With Detachable Grinding Chamber
FEATURES
Dimensions

: 18.1 x 10.8 x 5.8 in

Material

: Hardened Alloy Steel

Weight

: 7.3 lb

Warranty

: 1 Year
Additional Features:
Faster operation
Less noise
Stainless steel blades
View Price on
Amazon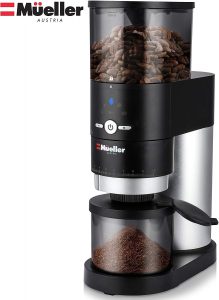 Finding a manual coffee grinder with good features is not an easy job. However, the Mueller Ultra- Grind coffee grinder has got it all covered for you.

It is efficient and superb in the mechanism. Although it is manual, it functions without making any loud noises. You can easily grind at the office or make yourself a cup of coffee at even 3 am without disturbing anyone.

Being manual, the grinder takes around 3 minutes to grind enough coffee. This might not be as fast as machine grinders, but it isn't the slowest too.

You can choose from 18 different click settings to get the coffee grind of your liking. The grinder has ceramic burr plates that offer greater durability in contrast to the stainless-steel blades.

You can personalize the grinder to your personal preference ranging between K Cup to Espresso with a perfect grind every time.

Bottom Line:
For a less noisy and easy to use coffee grinder, the Mueller Ultra-Grind Conical burr is a subtle choice. Not only is it convenient, but also it does not consume electricity which is a great plus.
FEATURES
Dimensions

: 13.78 x 11.57 x 17.52 in

Material

: Plastic

Weight

: 8.6 lb

Warranty

: 2 Years
Additional Features:
Removable filter
Fine grinding
LCD controls
Keep-warm feature
View Price on
Amazon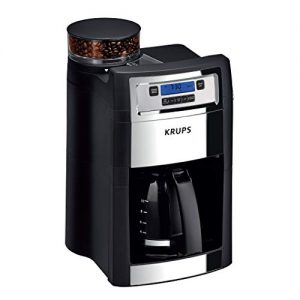 The KRUPS coffee grinder is both conventional and sleek. The machine provides you with a delicious cup of coffee every morning using its variety of features.

The grinder has stainless steel conical burrs and five different levels to give you the level of the coarseness of coffee grind that you desire.

The conical mechanism makes sure that your coffee grind is consistent enough without overheating the beans.

The coffee grinder has controls with an LCD to give a boost to your coffee-making experience. The three different strength options: mild, medium and strong to ensure that you get your cup of coffee just the way you like it.

One of the most lovable features of this grinder is the keep-warm feature where the machine keeps your coffee warm for up to two hours after brewing so you can enjoy your coffee while it is hot.

Cleaning the KRUPS coffee grinder is a hassle-free process as it comes with a removable filter hence making coffee making, grinding and cleaning easy.

Bottom Line:
The KRUPS Grind and Brew Auto-start Coffee Maker is a good choice to make if you are in search of a compact yet elegant coffee maker with grinder in it.
FEATURES
Dimensions

: 8.14 x 4.92 x 3.77 in

Material

: Stainless Steel & Plastic

Weight

: 3 lb

Warranty

: 2 Years
Additional Features:
Less noisy
Grinds in various sizes
Easy to clean
View Price on
Amazon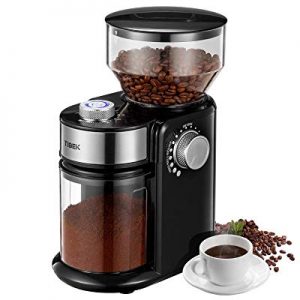 Want to enjoy a cup of coffee with freshly ground beans? Well then, this burr coffee grinder is what you need to get. For the price, the burr coffee grinder is a true conical mill grinder.

You can easily remove the top burr of the mill for cleaning purposes. The Burr coffee grinder has a grind performance to its finest with its consistent size results.

This grinder has two different settings for different sizes of grind and flavors of coffee.

The machine does not make any loud noises, so you won't have to worry about disturbing anyone while you help yourself with a cup of coffee.

Bottom Line:
With the Tibek automatic coffee grinder, you can make your perfect cup of coffee as the grinder works wonder and will certainly not disappoint you.

FEATURES
Dimensions

: 13 x 9.1 x 7.3 in

Material

: Plastic

Weight

: 4.6 lb

Warranty

: 2 Years
Additional Features:
Less noisy
Grinds in various sizes
Easy to clean
View Price on
Amazon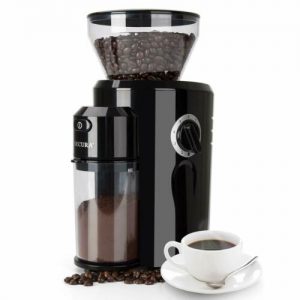 If you wish to have an electric burr grinder but are tight on budget, then the Secura Burr Coffee Grinder is the right choice for you.

The burr blade of the machine finely grinds your coffee beans by working at a fast pace. One of the most annoying things about coffee grinders can be their difficulty of use.

This will never be an issue with the Secura Burr Coffee Grinder, as it is easy to operate. With other coffee grinders where you are left to wonder about the grinding process, the Secura Coffee Grinder gives you a good view of the whole process from the top.
Bottom Line:
The Secura Coffee Grinder is a cut above all the rest coffee grinder with its easy customization and great control that it provides to users.
The Best Coffee Grinder For French Press: Buying Guide
Now that we have looked at some of the high-quality coffee grinders let's look at the important factors that you should have in mind when you are buying a coffee grinder for yourself. These factors greatly help in determining the quality of the grinder:
Grinding Settings
When it comes to coffee, the size of the ground beans matters. The size determines the flavor of the coffee; hence each different coffee flavor requires a different level of grind size.
You should evaluate the number of grind settings that your coffee grinder is offering. The effectiveness of the grind settings can vary from fine to coarse grind beans so that you can get versatile coffee flavors.

The best coffee grinder makes the task easier for you to improve the speed of the grinder accordingly so you can achieve the grind of perfect consistency.

Type Of Coffee Grinder
There are two basic types of coffee grinders; manual and automatic. Each one has its good points and drawbacks.

The manual coffee grinders are budget-friendly and portable, and they can be carried almost anywhere on the go. They run without making any loud noises as you can't hear any buzzing of motor or humming.
Automatic coffee grinders come with various grind settings and timers so you can grind your coffee finely and make any type of coffee with only a press of a button. This reduces the amount of guesswork and makes it easier and more convenient for you to make the coffee of your choice.
Timer
A timer is a good additional feature found in coffee grinders that are available for the French press. This feature allows you to run the grinder for a specific amount of time.

The time set depends upon the type of coffee and the grind size that you want to obtain. The timer is beneficial as you can do other tasks without monitoring while the coffee grinder does its job.
Ease of cleaning
The process of coffee making can get quite messy from the spillage on the counter while you transfer the ground bean to the ground coffee sticking to the crevices of the machine due to static.

It is important to regularly clean the coffee grinder to avoid any residue from affecting the next cup of coffee that you make. You should look for a grinder that comes with removable components that are easy to clean.
Size and portability
If you want to carry your coffee grinder with you on the go, that you should opt for a grinder that is small, compact and easy to carry.

The grinder should also be easy to set up, so it won't take you long to grind the coffee. The size of the grinder will also determine how much space it will occupy on the counter of your kitchen.
Final Thoughts!
For an aromatic and the perfect cup of coffee, you are only a grind away. All you need to do is consider the best coffee grinder for French press we have reviewed above for you. The product reviews together with the buying guide will help you in finding the best grinder for your kitchen.

If you are looking for best coffee maker with built-in grinder, then KRUPS KM785D50 Grind and Brew is highly recommended. And, if you are looking for premium quality coffee grinder in affordable budget then OXO BREW Conical Burr is the best choice.