Coffee is the World's Second-largest traded commodity after crude oil! And not only that, it is the second most favorite beverage after water. People just can't seem to start their day unless they've had their scalding cup of coffee.

However, getting the coffee just to your taste is another thing coffeeholic can get prickly about. Keurig is a notable coffee maker manufacturer. It's two best-selling, and top-notch products include k50 and k55. These have thousands of satisfied customers under them and will give the perfect cup of coffee to you.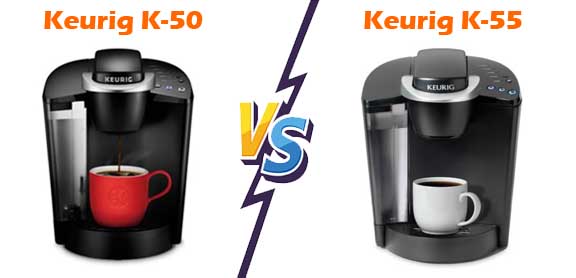 There has been a constant battle of Keurig k50 vs k55, both quite similar but k55 being an upgraded version of k50 with a price tag to match. K50 and k55 are virtually twins, so is it really fruitful bothering with the updated version?

Sure enough, k55 comes with additional features and is called K-Classic coffeemaker. But, is rebranding and other features worth the extra price?

To clear all ambiguities, we have reviewed both coffee makers to seek the best one between both. Let's see if K55 is really a better version:
Quick Comparison
| Coffee Maker | Keurig K-50 | Keurig K-55 |
| --- | --- | --- |
| | | |
| Dimensions | 9.8"x 13" x 13.3" | 9.8"x 13" x 13.3" |
| Weight | 7.6 pounds | 12 pounds |
| Type of Coffee | Tea, Coffee, Iced beverages, etc. | Tea, Coffee and hot chocolate. |
| Reservoir | Large, 48oz | Large, 48oz |
| Brew Speed | Considerably Fast | Very Fast with a speed of 1500w |
| Descaling | No | Yes |
| Water Filters | 1 | 2 |
| Variety of Colors | 1 | 3 |
| K-Cup Compatibility | Compatible with most brands | Only compatible with Keurig brands |
| Auto Shut off | Yes | Yes |
| | | |
Keurig k50 vs k55: Full Comparison
Strength and Reliability
K-50:
In terms of durability, K-50 and K-55 are absolutely the same. K-50 is extremely powerful as made from the same material as K-55. But when we talk about reliability, this blender has a track record of breaking down a lot and isn't reliable enough.

K-55:
While comparing Keurig k50 and k55, it is impossible not to mention the frequent breaking down of k50. Due to engineering flaws, K 50 broke most of the time, leaving upset customers in its wake. One of the significant reasons to introduce K-55 was to overcome this problem.
K-55 is more reliable; however, the strength of both coffee makers is the same.
Cleaning and Maintenance
K-50:
The Keurig machines are easy to clean, mainly because the manual perfectly guides through it. The detachable design which simplifies the cleaning. You can separate the drip tray cup holder etc. and wash them easily with the step by step clear instructions. However, K50 does not have a descaling detector. You will be able to descale it whenever you feel like it's the right time.

K-55:
Along with all the cleaning features of K-50, K-55 has a descaling detection feature too.
Giving a descaling detection, K-55 notifies when to descale the coffee maker, making it easier to maintain and increasing durability.
Design and Build
K-50:
If you are looking for a more lightweight, compact machine, then in this feature, K 50 wins the Keurig k50 vs k55 faceoff. Due to lesser features than its successor, it weighs half of k-55. With little space on your counter, this version will perfectly fit into your kitchen space, and the sleek design will complement your kitchen.

K-55:
It is available in three colors: black, white, and rhubarb, unlike k-50, which is only available in 1 color. The additional features and machinery make it a bit heavier than the k50 version. However, the difference is minuscule.
K-55 coffee machine is sleek and stylish, perfectly setting into your kitchen.
Brewing Time
K-50:
After the initial 4 to 5 minutes to boil the water, it brews coffee in 1.5 minutes, which is quick.

K-55:
Even though both Keurig k50 and k55 take about 4 to 5 minutes to warm and boil the water, k55 brews coffee faster.
K-55 takes about less than a minute to brew a cup of coffee compared to 1.5 minutes taken by k 50.
Taste
K-50:
The taste of K-50 and k-55 brewed coffee is often regarded as too the same, not to notice the difference. However, coffee connoisseurs mention a plastic taste in coffee brewed by K-50.

K-55:
The special charcoal-based water filter produces richer and smoother coffee. The charcoal filter removes any impurities making a tastier cup of coffee.
In the battle of Keurig k50 vs k55, K55 definitely takes the win for taste.
Noise
K-50:
Some people like their quiet and prefer if their coffee maker doesn't make any noise. However, K-50 lacks in this department is relatively noisier than its successor.

K-55:
This version comes with the option of Quiet-Brew Tech that allows running the coffee machine at a slightly lower noise level.
Having a slightly lower noise level than K-50, K-55 has the edge here.
So, Which Is Better: K-50 Or K-55?
FAQs
1. How often do the Keurig Models require cleaning?
If you only drink coffee, you can clean the machine once a month. However, if you also use it for other beverages like tea and hot chocolate, then rinse it thoroughly every time you use it.

2. Is the Model Dual Voltage?
No, it just needs 110 V.

3. Can the water be removed from the Keurig Coffee maker altogether to store it?
To store it, you can empty the water reservoir and clean it with a 50% solution of vinegar and water. This will evaporate any excess water and clean it. This is ideal for storage and must be done again before reusing.
Coffee Maker Buying Guide
Workaholics, students, and almost anyone practically lives off coffee, so a place without a coffee maker is incomplete. Many manufacturers claim to have the best coffee makers. But, unfortunately, one cannot precisely depend on the false advertisements of inferior quality products.

So, if you are a coffee lover and are looking for the right coffee maker for yourself, then you need to be well informed and make sure your expectations are met. Keurig manufactures quality products, and a choice between Keurig k50 vs k55 can be hard. To help you out, some of the valuable features to look for in a Coffee maker are:
Carafe Size: Most of the Coffee Makers usually make 8 to 12 cups of coffee. For those who are not hard-core coffee drinkers, a 4 cup one would suffice. However, if a coffee machine for commercial purposes is needed, then you can also look for those having two pots.

Carafe Type: There are mainly two carafe types. A thermal one will keep your coffee hotter for longer periods while a glass carafe is more durable.
Multi-purpose: Some coffee makers are multifunctional that dispenses hot water for all kinds of beverages like tea, coffee, hot chocolate, etc.

Built-in Coffee Grinders: For coffee maniacs, this is the way to best possible coffee. Just before brewing, it grinds coffee to make a heavenly cup saving space along the way.

Controls: To make the flavor according to your taste, you can change the temperature and strength settings.

Filter Basket: The presence of a filter basket eliminates the need for using filter papers. However, it becomes increasingly difficult to wash the filter basket. Also, some finely ground coffee may seep into your cup from the filter basket.

Automatic shut off: This is a safety feature that allows the coffee maker to switch off on its own.

Conclusion
The perfect choice between Keurig k50 vs k55 merely depends on your preferred features in a coffee maker. For us, k 55 is a great choice, and the price definitely does justice to the enhanced features. It brews quicker, is less noisy, caters iced beverages, and has an auto shut off function too.

Along with enhanced features, you can get Keurig K-55 in 3 different colors too, which will definitely complement your kitchen.