Juicing and blending your fruits and vegetables is one of the best methods to follow a healthy diet. It's time-efficient and practical.
And if you're looking for an affordable juicer to get you started with your journey to a healthier lifestyle, here's a list of the best juicers under $100. Also, check out our article about the best blenders under $100.

Comparison Table
The 6 Best Juicers Under $100 for 2020:
1. Breville BJE200XL – Best Budget Centrifugal Juicer: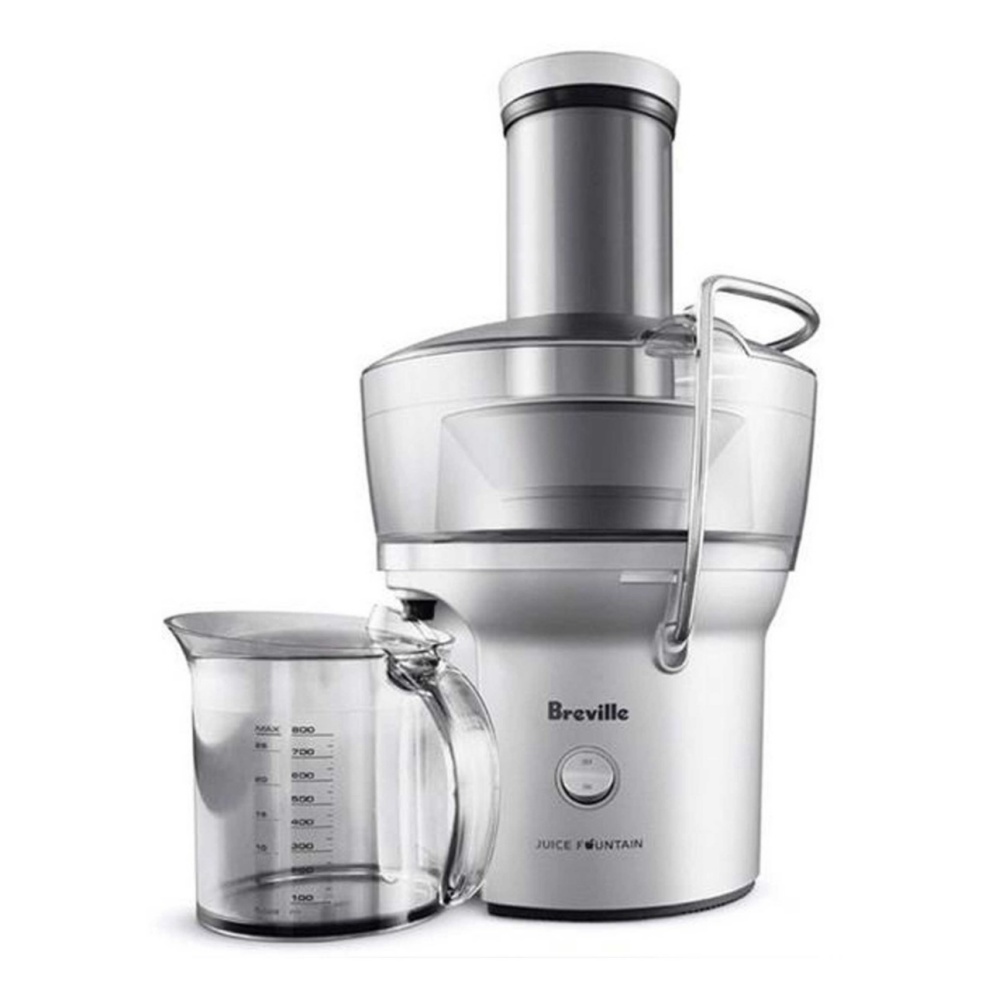 If you're looking for a heavy-duty centrifugal juicer below the $100 mark, you'll find none better than the Breville BJE200XL.
Its solid construction with a titanium cutting disc and stainless steel micro-mesh filter enables it to take on heavy-duty jobs. It also employs a compact juice fountain and a centered knife blade assembly.
Running on a 700-watt motor, it can spin its blades at 14,000 RPM (rotations per minute) speed to extract as much juice as possible.
And for an element of safety, the Breville BJE200XL comes with a locking arm that prevents it from running when the cover isn't in place and in the proper, vertical position.
Moreover, the Breville BJE200XL comes with a big 3-inch centered feeding tube and extracts up to 30% more juice and up to 40% more vitamins than the average unit.
And provide you with convenience and ease of use, the Breville BJE200XL's parts are dishwasher-safe, which means easier cleaning.

Bottom Line:
At this price point, you won't find a centrifugal juicer with such powerful and reliable capabilities.
If you're not a big fan of pulp, say hello to the BLACK+DECKER JE2200B. Its impressive ability to separate juice and pulp will suit you very well.
It runs on a 400-watt motor and has an adequately-sized juice bowl.
Although disassembly may be a little hard at first, once you get used to it, it's just taking the feeder out, unlocking the latches on either side and removing the top lid.
A downside to the BLACK+DECKER JE2200B, however, is that its chute size is a little too small, so you'll have to spend a little extra time chopping up your vegetables or fruits. It's also a little loud.
Apart from that, the BLACK+DECKER JE2200B does a great job at extracting juice from your vegetables and fruits, so you won't feel like you're wasting anything.

Bottom Line:
If you're alright with the noise and the little extra time needed to clean the unit as well as chop up the input to get every last bit of juice, then the BLACK+DECKER JE2200B is your go-to choice.
3. Mueller Austria – Best Budget Masticating Juicer: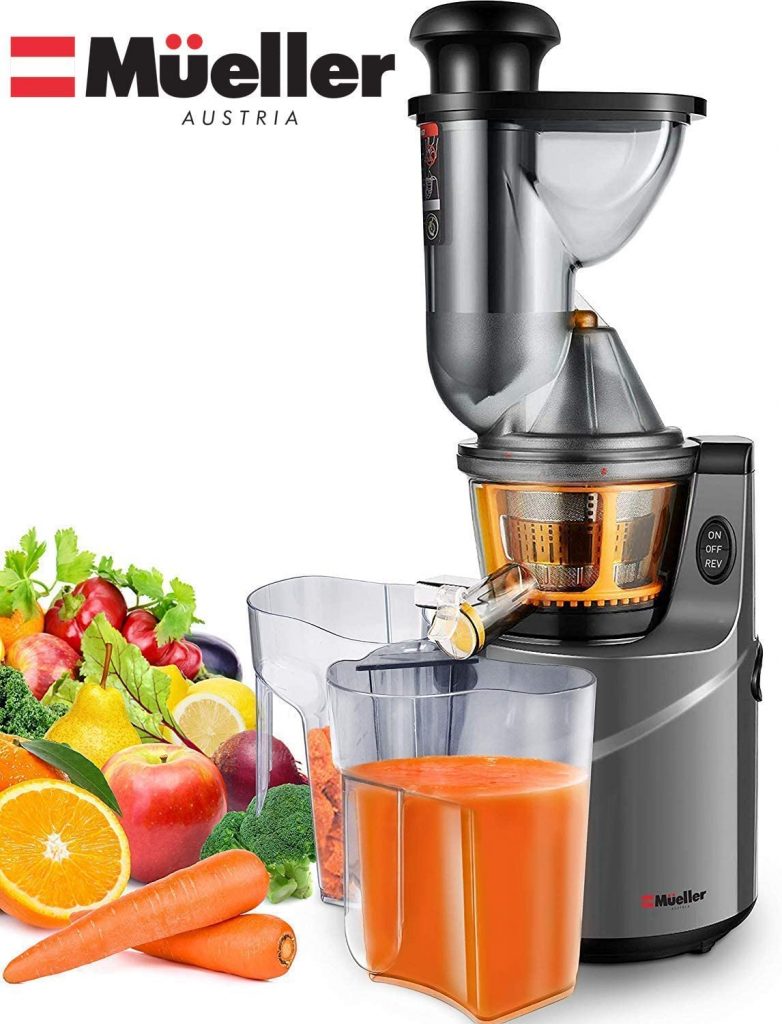 Generally, masticating juicers work at slower speeds to ensure full nutrient retention, so this unit runs at only 60 RPM. It has a 150-watt motor, which is suitable for its speed.
The 3-inch wide chute means you'll need less time preparing your fruits and vegetables for juicing.
Moreover, the Mueller Austria comes with a "pre-cleaning" function and an anti-drip design that makes cleaning it up a walk in the park.
However, the Mueller has a bit of a cumbersome design, and it's taller than most similar models. So make sure that you have enough space to fit the spouts that stick out at weird angles.
When you consider the size of this unit, it runs without producing too much noise.
And if you register your purchase on the company's website, you'll get a two-year extension on the two-year warranty that this juicer comes with.

Bottom Line:
If you're looking for a juicer that will provide you with the healthiest and most nutritious juices, go for the Mueller Austria. However, make sure you have enough space to accommodate the unit first.
If you're looking for a unit that will help you make your morning juice as quickly as possible, the Hamilton Beach 67601A is a great option.
The extra-large chute means that you won't have to spend any extra time chopping up fruits and vegetables to fit them through. Running on an 800-watt motor, the Hamilton Beach 67601A does its juicing quickly and smoothly.
Moreover, the large pulp bin gives you the freedom to make more juice without having to empty it frequently –which also works on saving time.
The Hamilton Beach 67601A is easy to clean and comes with dishwasher-safe parts, but you can still clean it by hand using the cleaning tool included.
However, the pulp of the Hamilton Beach 67601A may seem a little "wet," which means that it's not the most effective when it comes to extracting the juice. You might want to run the pulp through a second time to maximize extraction, but that defies the point of the unit being a fast-action one.
Bottom Line:
For the price, there are a lot of excellent features on this unit that you'd only expect to find on higher-end models.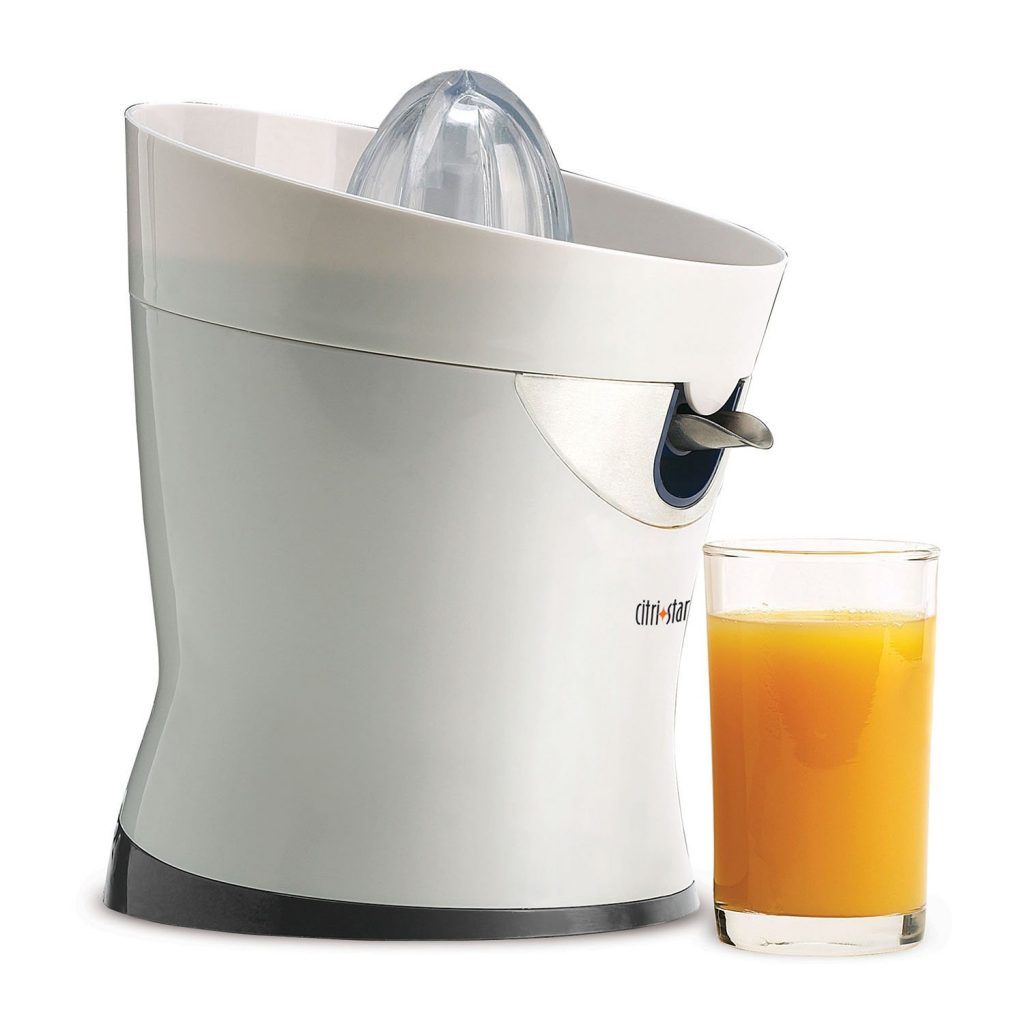 Running on a 50-watt motor, the Tribest CS-1000 doesn't have that much power to offer. But what it does, it does well –and that is citrus juicing.
It has a sleek and compact design with a stainless steel spout, and the simplicity spares you the hassle of buttons and changing speeds.
All you have to do is push down the fruit against either of the universal reams. The larger one suits grapefruit while the smaller one can be used for lime and oranges.
Once you flick the switch, the juicer will start.
Moreover, the more compact design makes it easy to fit on your counter. However, it also means you'll need to empty your pulp container often –around every other fruit.
You also need to hold the juicer with one hand and push down the fruit with the other.

Bottom Line:
If you want to make orange, tangerine, or lemon juice, the Tribest CS-1000 is the juicer to take on that mission. This budget juicer retains all the taste and nutrients of any citrus fruit you throw its way.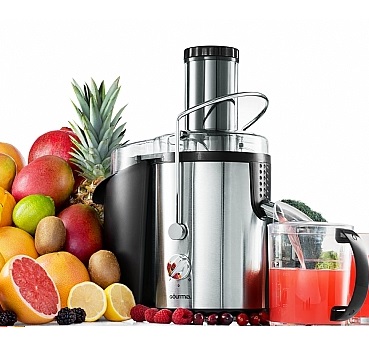 The Gourmia GJ1250 runs on a powerful 1000-watt motor that enables it to tackle all your juicing needs effortlessly.
Whether you want to make tropical mango and banana juice, tomato sauce, frothy carrot juice, or green smoothies, the Gourmia GJ1250 will cover the whole gamut.
It even has a dial that you can toggle to change extraction settings from quiet to maximum.
The low setting works for softer vegetables and fruits such as lemons and tomatoes, while the high one works for tougher ones such as beets, ginger, and carrot.
The ETL certification should also make you rest assured about the quality of this unit.
Moreover, to make the juicer more convenient, it's equipped with a wide-mouth design that saves you time cutting, preparing, and slicing ingredients.
And the fact that it can hold up to 32 ounces of juice, as well as 8.5 cups of pulp, means you'll get continuous juicing to produce large amounts in a single go.
Finally, the disassembled parts are dishwasher-safe, facilitating the cleanup of this juicer.

Bottom Line:
The Gourmia GJ1250 is the most powerful choice you can get for a juicer with a budget of $100. Its variable speeds and power enable you to juice a wide array of fruits and vegetables with no hassle whatsoever.
How Far Will a $100 Juicer Go?
In the world of juicers and blenders, less than 100 bucks are pretty affordable. So, you shouldn't be expecting something too fancy or insanely powerful.
A $100 juicer is good enough for basic jobs and will last you a couple of years, but not a lifetime.

How to Pick a Reliable Juicer Under $100?
When you're looking for a budget juicer, you shouldn't let the focus on affordability prevent you from getting a unit with good performance and reliable quality. And if you want some more clarification, here are the things you should consider.
Type of Juicer
Juicers come in two variants: centrifugal and masticating ones.
The former separates the juice of the vegetables or fruits from the pulp by pressing down on the ingredients against the high-speed spinning blades. Then, the pulp is pushed out into a bucket for you to get rid of.
These are more powerful and have a high juice yield. However, this high speed results in the oxidation of juices to a degree.
On the other hand, masticating juicers or cold press juicers chop and masticate vegetables and fruits at a moderate speed. They produce pulp and juice and then separate them via a filtering screen.
These usually have only one or two gears, and some have a built-in hydraulic press to process juice at a faster rate.
If you're looking for quicker action, go for centrifugal ones. However, if you want to retain most nutrients, I'd recommend a masticating juicer.

Capabilities
Not all juicers come with the same juicing capabilities, so you should carefully consider the product you're going to put in your juicer. Are you going to prepare wheatgrass, citrus juices, vegetable juices, or fruit juices?
Typically, tougher things would require a motor with higher horsepower and wattage to work through them.
Moreover, how often you're going to operate your unit makes a difference. So if you're going to do heavy-duty juicing, go for a stronger motor.

Speed
Do you make your juices in the morning while you're preparing for school or college? Then, you might need a fast-action and time-efficient one. These usually cost more as they have more powerful motors.
On the other hand, you can save even more by getting a very affordable juicer that takes its sweet time to deliver your juice.
Noise
Juicers and blenders can be pretty noisy –especially when working with heavier loads. But just because you're getting a budget juicer doesn't mean you should get a headache every time you operate it.
Look for units with less than 70 dB levels for the most convenient and disturbance-free juicing.
Final Thoughts:
Deciding on which of the choices on the list is the best juicer under $100 depends on what you're looking from your juicer.
If you want to use it for everything, you should get the Gourmia GJ1250. This powerful unit with variable speeds will enable you to juice anything –from the softest fruits to the toughest green vegetables.
On the other hand, if you're looking for the most nutrient-retention and have some time to spare waiting for the juicing process, I'd recommend the Mueller Austria masticating juicer. Finally, if you're looking for something more affordable than those two options, then go for the Hamilton Beach 67601A.