Before you decide on which juicer you're going to buy, make sure you pay attention to the little details that can make your experience more enjoyable.
If you're not sure what to look for when you're shopping for a juicer, you'll find this guide helpful.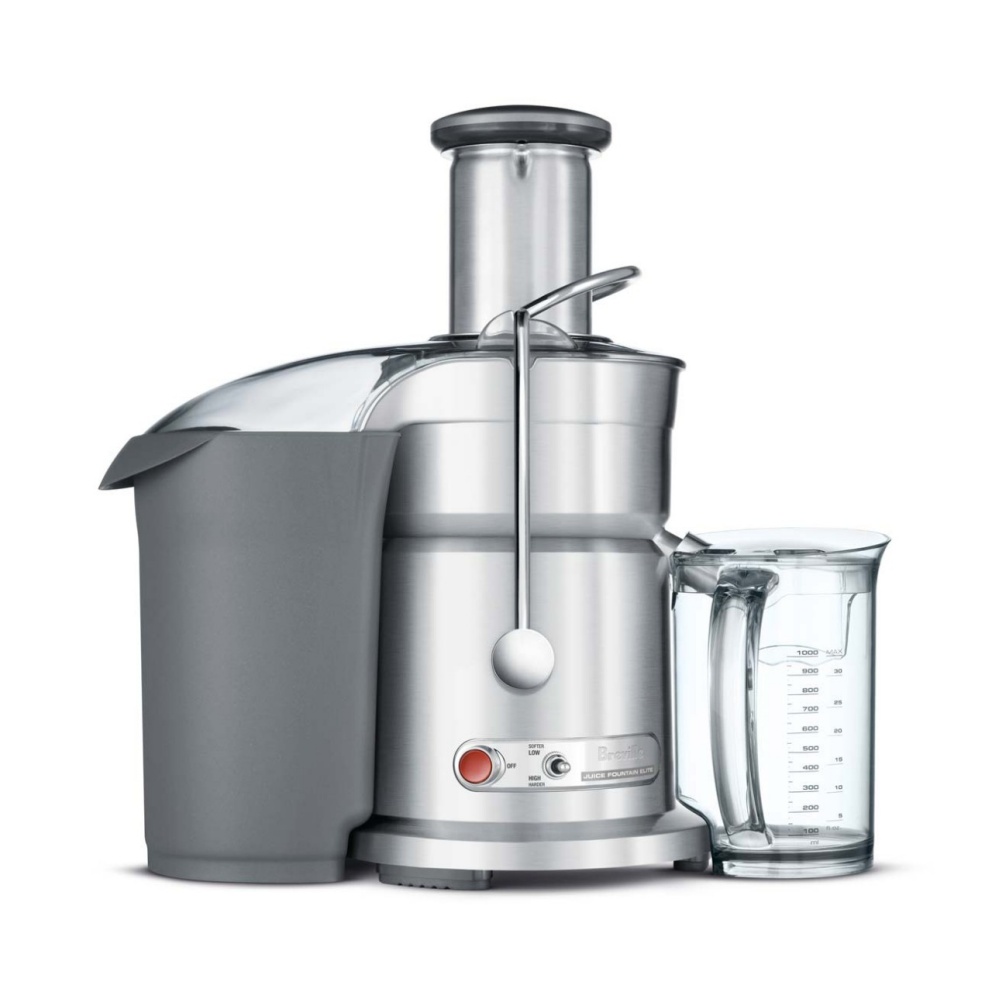 1. Price
The more you're willing to spend on your juicer, the more quality your juice is going to be.
And since making a glass of juice requires many pieces of vegetables or fruits, you should look for the juicers with higher yields in order to be as cost-efficient as possible.
2. Retention of Nutrients
Many people tend to choose juicers for the health benefits they have to offer –an easy and fast way to consume fruits.
This is why you should get a juicer that retains as many of the fruit's nutrients as possible.
Masticating (AKA cold-press) juicers are better in this aspect as their slow performance gives them the time to extract every last nutrient.
But there's another factor to this. Make sure you choose a juicer that can handle different produce like celery and kale without facing issues.
Adding some vegetables and leafy greens to your juice can further extend its health benefits.
3. Assembly, Disassembly, and Cleaning
With most juicers, you won't need to disassemble them after the initial assembly.
However, you might need to do it in some cases. When you want to clean the juicer, for an instant.
Since you have to clean it frequently, you'll want to get a juicer that's easy to take apart and put together after cleaning.
Finding a juicer with dishwasher-friendly parts will definitely spare you some effort.
4. Noise and Vibration
Some people may not find this an issue, but if you do, then you should get a cold-press or twin-gear juicer as either of them would work more quietly than a centrifugal one.
5. Speed Variability
While it's true that juicers that work at slower speeds like masticating and twin gear juicers tend to give you more nutrients, they also require a much longer time commitment.
Centrifugal juicers, on the other hand, give you slightly nutrients but in a much shorter time.
They usually also have speed variability which allows you to work with different fruits and vegetables –according to their type and size.
So having variable speeds gives you a higher degree of versatility and widen the range of fruits or vegetables that you can work with.
6. Size of the Juicer and Cord Length
Usually, people want to buy kitchen appliances that don't take up too much space.
So you should make sure that the size of the juicer you want to buy is suitable for your counter and possibly cabinets that hang above it.
Not only that, but you should also make sure that the cord length will be sufficient to reach an outlet from the position you have in mind.
Moreover, size also affects the amount of juice you can make in one go. On top of that, the size of the chute determines how little your chopping has to be.
7. Pulp Ejection
If you're going to be juicing one serving at a time, there's no problem.
However, the larger the number of fruits and the amount of juice you expect, the more crucial the pulp ejection becomes.
The majority of masticating and triturating juicers expel the pulp regularly.
However, some centrifugal juicers lack this feature, which means that you'll need to stop the machine every now and then to clean out the basket.
8. The Juice Yield and How Dry the Pulp Is
These two aspects are strongly related. The wetter your pulp looks, the less effective the juicer is at extracting the juice from the fruit.
This is why it's always a good idea to get a demonstration of the machine before you actually buy it.
9. Pulp Container Size
Needless to say, the large the pulp container is, the less often you'll have to stop and empty it during large-volume jobs.
10. Multi-purpose And Multi-functionality
Some masticating and triturating juicers tend to have the ability to grind coffee beans, spices, nut butter, nuts, and even make baby food.
Of course, combining more than one feature leads to a more expensive price, but if all those features are present, it would be a worthy investment.
11. Durability and Quality
Always look for stainless steel parts rather than plastic ones. For the durability and for the fact that they're easier to clean.
When you buy a juicer with higher-quality parts, it will last longer and perform better.
12. Motor Size and Power
How strong the motor is means how fast the basket spins and therefore how effectively the juice is extracted.
Starting from 1.1 horsepower, a motor will be able to work with different fibers found in vegetables and fruits.
13. Warranty
From seven to ten to fifteen years of warranty on your motor, you'll find companies offering different time periods.
Of course, the longer the period is, the more you can rest assured about the performance of your juicer and the durability of its motor.
Final Thoughts:
Since no juice beats the homemade, fresh, natural one, juicers are essential in any home nowadays.
Centrifugal juicers provide you with ease of use, speed, and affordability but take away from the juice's shelf life and the nutrients retained in the juice. They can work with hard produce, citrus, and soft fruits.
On the other hand, twin gear juicers are quite expensive but retain a huge amount of nutrients and produce juice with a 72-hour shelf life.
However, these juicers tend to be rather slow. They allow you to work with hard produce, nuts, and beans, leafy greens, soft and citrus fruits.
That's why masticating or cold-press juicers seem to be the ideal compromise.
They don't cost an arm and a leg, yet they have high nutrient retention, are versatile, and produce juice with a 72-hour shelf life. They can work with hard produce, soft and citrus fruits, leafy greens, nuts, and beans.