If you're here, then you're probably having a hard time choosing between NutriBullet and the Nutri Ninja to be your new bullet blender.

Before we dive into the details, let's first clarify what a bullet blender is. A bullet blender is simply a compact blender that can be easily assembled and disassembled.

This makes it the perfect choice for those who are always on the go but won't give up on some delicious smoothies. Also, read the review and buyer's guide of the best 6 blenders for ice.

A bullet blender is also relatively easier to use and doesn't need much effort to maintain.

Now that you know what a bullet blender, let's see which of these two blenders is the worthy winner of this debate!
Quick Comparison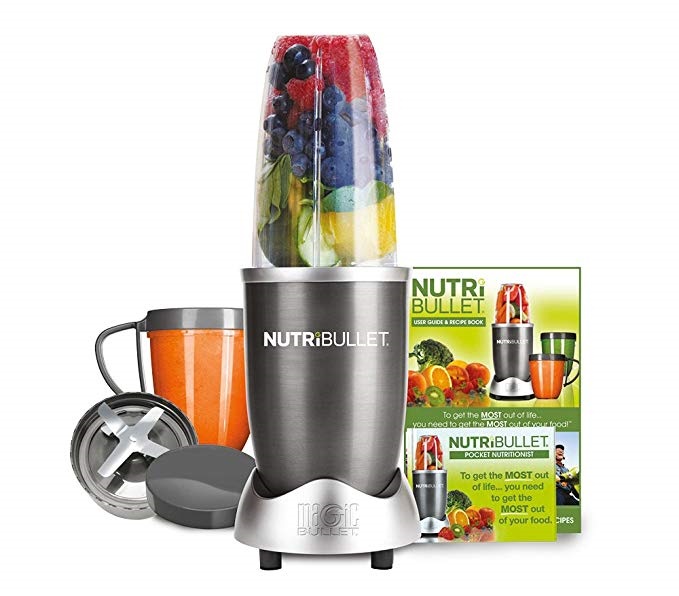 Key Features:
Weight: 4.7 lbs
Capacity: 24 oz and 32 oz
Number of Speeds: One
Motor Power: 900-watts
Number of Blades: 2
Dishwasher Safe: Yes
Recipe Book Included: Yes
Key Features:
Weight: 6.65 lbs
Capacity: 12 oz, 18 oz, and 24 oz
Number of Speeds: One
Motor Power: 1000-watts
Number of Blades: 2
Dishwasher Safe: Yes
Recipe Book Included: Yes
NutriBullet Vs. Nutri Ninja – Full Comparison
Overall Performance:
NutriBullet is equipped with a 900-watt motor that's capable of blending whole fruits and veggies quite effortlessly. It saves you the hassle of having to prepare the ingredients by cutting them into tiny pieces first.

However, you may have a problem with heavier ingredients as the blades could possibly struggle.

When this happens, you need to pause the process and shake up the blender for a few seconds then turn it back on. This could happen even with full-size blenders anyway, so it's not really a significant problem.

When it comes to frozen ingredients, you can blend them using NutriBullet. It could take some time, though, considering that the blades are a bit thin.

On the other hand, Ninja's motor has 1000 watts of power, an extra 100 watts over NutriBullet, giving it a slight edge in speed and handling seedy ingredients.

The Nutri Ninja doesn't just chop up the ingredients. It breaks them down completely to maximize nutrient extraction. This is made possible thanks to the thick and robust blades the Ninja has.

These blades are also designed in a way that makes them blend to the top and the bottom. This makes it easier for the blender to process the ingredients.

For frozen ingredients, the Nutri Ninja handles them remarkably well. The thickness of the blades makes the Nutri Ninja a favorable option for blending frozen Ingredients.
The Cups:
NutriBullet comes with two cups: a small 24 oz cup and a larger 32 oz cup. Both are made of sturdy high-impact BPA free plastic.

They're resilient enough to resist shattering in case you accidentally drop them down or you know if you're blending some steel balls (seriously don't do that).

On the other hand, the Ninja bullet gives you three cup options: 12 oz, 18 oz, and 24 oz. Notice that, by this configuration, the maximum possible capacity is 8 oz less than that of NutriBullet.

The cups are made of Tritan, a type of BPA-free plastic. Just like NutriBullet's cups, they're tough, impact-resistant, and can be washed in a dishwasher.
Portability:
NutriBullet weighs about 4.7 pounds and has a slender profile, making it easy for you to fit it in your backpack.

On the other hand, the Nutri Ninja is slightly heavier at 6.65 pounds. It's also bulkier than the NutriBullet. Nevertheless, it's still portable and easy to carry around.

Keep in mind that portability also depends on which cup size is installed.
Blade Design:
NutriBullet features what it's known as an extractor blade. It consists of two blades. The top blade is made up of four flat prongs with square-shaped tips. It sits over a bottom blade that has two downward tilted prongs.

This arrangement, coupled with the high torque rotation of the motor, makes it possible to break down the ingredients into a full liquid state.

The Nutri Ninja's blade system is quite different than that of NutriBullet. It features four prongs, two of them are tilted upward and two are pointed downward. This makes shredding the Ingredients quite easier and faster.

Both blade systems are considered durable and you should expect them to perform well.
Reliability:
Both blenders are well-designed and made of durable materials.

However, there are a few things to keep in mind. NutriBullet has a leaking issue due to the fact that the movement of the blades causes the bearings to move. This problem has existed since earlier models, and it seems like it's sticking around in this model too.

One common concern with the Nutri Ninja is that, even though it's suitable for crushing frozen ingredients, you still need to chop them down into a few pieces.
NutriBullet Vs. Nutri Ninja: Final Recap
If you love to make smoothies, for the most part, we'd recommend opting for NutriBullet. While both blenders are on par with each other regarding this matter, NutriBullet's slim design gives it the upper hand.

However, if you usually put seedy ingredients into your blender, go for the Nutri Ninja. Its blade design and higher motor power make it favorable for blending heavier ingredients.

Due to the fact that the NutriBullet comes with a 32 oz cup, it's a better option for those who like to use larger ingredients.

The Nutri Ninja is slightly cheaper than NutriBullet, so if you're on a tight budget and want to save some extra cash, go for the Nutri Ninja.

However, keep in mind that NutriBullet could be cheaper at certain times of the year. Also, check out different retailers since not all of them offer these blenders at the same price.

Both NutriBullet and Nutri Ninja are pretty reliable and are considered two of the best bullet blenders out there. The differences between the two are minor. You can't go wrong with either of them. Enjoy your drinks!