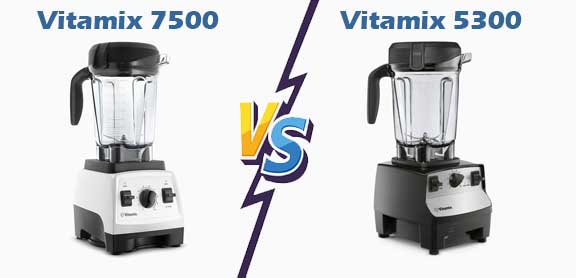 While making smoothies, slushes, and purée, you need to find a premium level blender. However, since the market is swarming with so many, it can be a bit challenging to find the right one. A quality blender will definitely be a great addition to your kitchen appliances as well as making great smoothies. Speaking of quality, Vitamix is a popular name. The company provides a broad range of high powered emulsifying blenders. However, there is a close battle between two products, Vitamix 5300 vs 7500.

People often compare both of these to find out if it's worth to spend more money in 7500. Both of these Vitamix products guarantee excellent quality. However, they might feel similar in many aspects.

Looking closely, they are just as different. The material, blades, and capacity may be the same, but the motor and safety features are enhanced.

In short, Vitamix 7500 is an upgraded version of the 5300 model.
The battle of Vitamix 5300 vs 7500 is never-ending, so let's settle this once and for all.
Comparison Chart (Vitamix 5300 Vs 7500)
| Blender | Vitamix 5300 | Vitamix 7500 |
| --- | --- | --- |
| | | |
| Dimensions | 7.2 x 8.8 x 17.2 in | 17.5 x 7.7 x 9.4 in |
| Weight | 12 pounds | 13 pounds |
| Safety | Standard safety | Extra-large vents and cooling fan |
| Motor type | Old version | New generation Motor |
| Noise | 98 dB | 88 dB |
| | | |
Vitamix 5300 – Cheapest Refurbished blender
Features:
Power: Vitamix 5300 comes with a 2.2 HP motor. It allows smooth grinding, crushing, and pureeing of almost all vegetables. The motor is an older version with standard vents. But if we see Vitamix 5300 vs 7500, then 7500 is better as it comes with a modern motor.

Blades: The blades are made up of stainless steel of aircraft quality. This allows them to be used for a long time. The blades are 4-inch long. These hammermill blades are places in a way to give maximum power. The tips are blunt to make the blades last longer.

Jars: The capacity of the jars is 64 oz. The jars are either available in glass or steel. The glass is more user-friendly as people can see through and control the process. The glass jars also have calibrations to measure the liquid. However, stainless steel jars are more durable and should be used carefully.

Maintenance: The Vitamix jars are easy to clean. One just needs to add water and operate the unit for a couple of minutes. Then the jar will be cleaned.
Vitamix 7500 – Most Powerful Blender in your Kitchen
Features:
Power: Vitamix 7500 comes with a new generation motor and a more impressive housing. It is also fitted with a 2.2 HP motor and gives the same blending power as 5300.

Performance: This great blender is fixed with large air vents to prevent the motor from getting hot. Moreover, there is also a cooling fan to aid in this. This allows powerful blending constantly. It also produces a noise of 88 dB.

Blades: Blades are of aircraft quality and made up of stainless steel. The hammermill blades are 4 inches long and are not razor sharp. The blades are positioned in a way to give maximum chopping power.

Accessories: This blender comes with a tutorial DVD and a cookbook with 200 recipes.
Speed Control: The speed control of Vitamix 7500 has 10 different options. The control panel is illuminating and sleek.
FAQs
1. Which model is better between Vitamix 5300 vs 7500?
Both models are quite useful if you need to make smoothies, juices, or just need to do the quick blending. But, if you are new to blending and require a little help, then the DVD and cookbook along with 7500 will be handy.

2. How are these both models different from each other?
These models are relatively the same, but there are slight differences that make 7500 an upgrade of 5300. 7500 is sleeker with a better motor, lower noise level, and a better cooling system.
Blender Buying Guide
It is no wonder that making your own juices and smoothies at home is an entirely different definition of fresh. The best part is you can tweak the flavor accordingly. But for that, finding a powerful and efficient blender is essential. If you are looking for the top 6 blenders for ice then you can visit our post.

A blender can be used to dice, chop, mix, and make a puree. There are various features that one needs to look at in a blender to find the right product.

In the Vitamix 5300 vs 7500 battle, there are multiple ways to find the right one for yourself:
Capacity: This makes sure that we have an idea of the maximum amount of juice we can make. Your family size will help you determine the capacity you need.

Blades: The blades design and positioning are essential because these determine the efficiency and strength of the blender. Also, make sure the blades are stainless steel to prevent rusting.

Cleaning: Blenders that are easier to clean are better. Some blenders now come with a detachable base to allow quick cleaning.

Power: Knowing the power and wattage tells you the performance of the blender. For smoothies, a range of 500W to 600 W is good, and if you like minuscule granules, you can go for a power of 700W.

Blender Controls: Finding a blender that gives an adequate number of speed controls is significant.
Accessories: Make sure that you know what the unit contains. The accessories, including the number of jars, must be appropriate.
Moreover, one must make sure that the unit offers value for money. A more modern and powerful blender is more expensive. Make sure you check if the blender is value for money or not by comparing the price with the features.

Conclusion
Our pick from Vitamix 5300 vs 7500 is the latter. Vitamix 7500 may be a little more expensive than the other but the better design, motor, and cooling system guarantee a better experience as well. As we see Vitamix 5300 vs 7300, 7300 will look dashing in your kitchen with the sleek design.