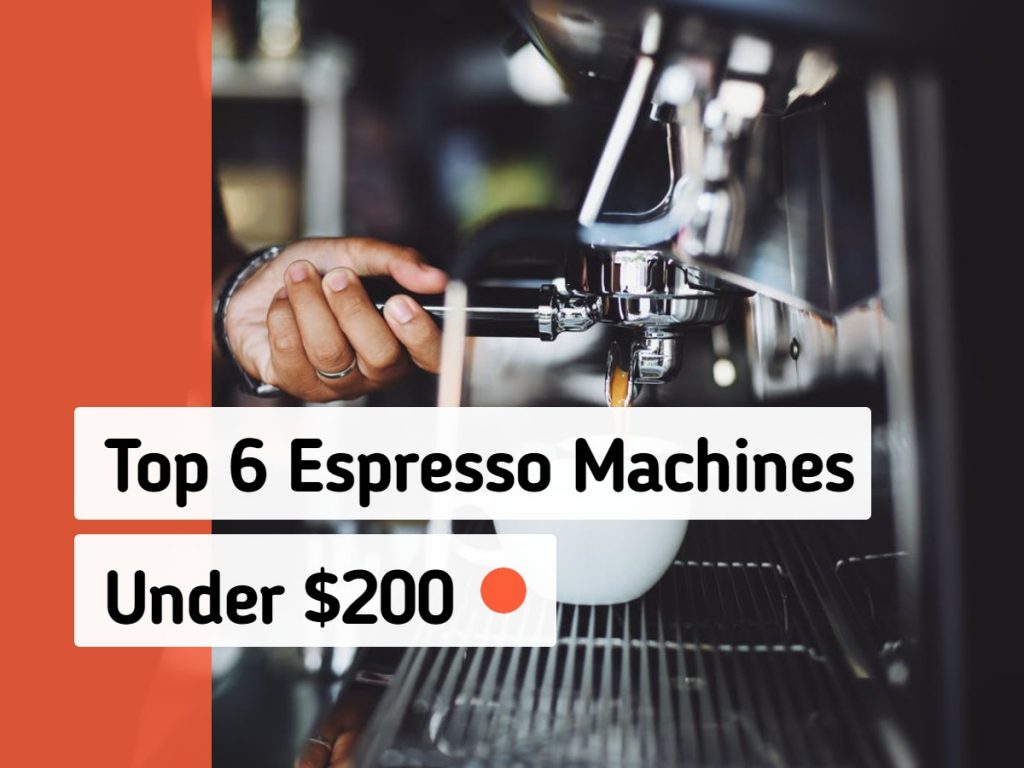 So you're probably at a stage where you're in love with espresso and want it in the comfort of your home whenever you feel like. But the problem is that you don't want to spend too much on an espresso machine, maybe nothing more than $200. It is a fair price to expect something nice and workable, and not too fancy, that you end up breaking your bank.

The problem after choosing a price range is the huge range that these espresso machines come in. There's literally an endless amount of brands offering somewhat different yet similar espresso machines. Choosing the best one for your home can really be a daunting task, and this is where this article will come in. Also, read our article for 7 best grinders for French press.

To make your life easier, we've come up with a list of the best espresso machine under $200, so that you can easily go through our list, find out what's good and what's not about a particular product, make your decision, and place an order.

Comparison Chart
Best Espresso Machines Under $200:
Mr. Coffee Espresso and Cappuccino Maker offers a fantastic deal at a price under $200. The best thing about this machine is the fact that it's super easy to use. It comes with a straightforward control panel and a user manual that easily guides you on how to get the most out of your machine. With just a push of a button, you can choose whether you want a single shot or a double shot latte, cappuccino, or espresso.

You can use it to froth up your glass of milk and turn it into a creamy, foamy delight. Moreover, it has a 15 bar pressure pump, which makes sure that all the flavors are extracted out of your coffee.

The removable water tank and drip tray make it very easy for you to clean the entire machine after you're done using it.

There are tons of other features that this affordable espresso maker comes. The only drawback reported so far is that some customers claimed it to be a little too noisy, which can be a bit of a problem.

Bottom Line:
Although the machine can be boisterous, it's otherwise a fantastic choice, especially if you don't want a fancy system, and three types of brews will do for you.
The Cuisinart EM-200 Programmable 15 Bar Espresso Maker comes with a lot of features. The most prominent, however, of all the features is the fact that it is programmable as well as manual. This means that you can use some in-between settings according to your personal preference to brew the best espresso, just the way you want it.

The bar pump pressure creates espresso crema, which is a thicker version of the espresso and a better one, that you can't achieve using a steam pressure machine. The adjustable steam wand can be used to choose between steaming, frothing, and milk foaming so you can convert your espresso into a latte, mocha, cappuccino, whatever you prefer.

The EM-200 comes with a frothing cup that is designed to withstand the pressure of the steam wand, and the spout in the frothing cup lets you make beautiful froth designs on your espresso.

The machine comes with a long-lasting 3 years of warranty, which is a fantastic offer in the espresso maker industry. The customer service is quite efficient, too, and you can reach out to the team using multiple social media platforms.

Bottom Line:
Cusiniart EM-200 Programmable Espresso Maker is one of the most affordable espresso makers in the market under 200$. It offers a decent amount of features and functionalities and can last you a couple of years if used with care.
The DeLonghi EC702 15 Bar Pump Espresso Maker is another excellent yet affordable choice for you. This reliable espresso maker can make your life easier, although it takes some room on your countertop, that is something you should forego, given how amazing this is.

It comes in a stainless steel body, a nice change from your traditional plastic body espresso makers, having a more premium look and quality.

Two different thermostats on the espresso maker allow you to keep a full check of the water and steam levels so you can get the perfect espresso. If you want something quick, you can just make use of the dual function holder of the DeLonghi EC702. Slide in a pod or your favorite coffee beans and leave the rest to the machine.

EC 702 also features a warming tray that works to keep your coffee mug at a warm temperature so that you get fresh, hot coffee and espresso every single time. Some other salient features of this innovative machine include a stainless steel boiler to ensure excellent quality espresso every time. Besides, it also consists of a built-in cappuccino frother that gives you frothy, creamy cappuccino whenever you want it.

The only problem that might concern customers is the tweaking of the grinder settings. They can be a little hard to understand and perfect.

Bottom line
If you've been around the espresso machine industry, you know about DeLonghi's reputation and its fantastic quality machines. The DeLonghi EC 702, falls no short of that reputation. Under a price tag of $200, this is something you can put an investment in.
Klarstein is a relatively new German brand in the market, but one that is quickly gaining a lot of popularity and reputation. The machine comes in two attractive colors, red and silver. The red one is notably more attractive and stands out. It will surely add a very aesthetic touch when sat on one of your countertops.

Moving further, the Passionata Rossa 20 Espresso Machine comes in a very compact size so you can easily make use of it in homes as well as small office spaces. It's also very lightweight thanks to the full stainless steel body, which is also very durable, unlike other cheap plastic espresso machines.

The self-priming feature in the Passionata Rossa 20 shortens the waiting time between shots and lets you brew coffee, very easily and in no time. Single shot and double shot sizes, both are supported by the portafilter along with a pod holder, for quick brews.

Bottom Line:
If you're looking for stylish design Espresso Machine, then this product will be great fit for your kitchen, especially given the fact that it is one of the best espresso machine under $200.
The DeLonghi EN80BAE Original Espresso Machine Bundle is all that you'll ever need in your home or office, to satisfy all your coffee needs. At just a small price tag of $150, it's astounding, the type of quality that is being offered by this product.

The automatic operation of the machine, along with a 19 bar pressure pump promises to give you an amazing espresso cup every single time. The bundle comes with the Aeroccino 3 milk frother, which is used to turn your espressos into mochas, lattes and allows you to present them beautifully and show off your skills.

The Nespresso Inissia brews two cup sizes, Espresso and Lungo, and that too with just a touch of a single button. Moreover, it also comes with a complimentary gift, which consists of a pack of Nespresso capsules with different aromas, so you can try them all and have a different experience every time.

Bottom Line:
There are hardly any significant drawbacks to this machine. And therefore, at the price of $150, this machine is one of the best espresso machine under $200 that you can get your hands on.
Every coffee enthusiast would love to get a cup of espresso that is full of steam and contains rich crema, this espresso machine fits the bill. It offers 15 bars of pressure to provide you with a rich and creamy coffee.

This machine reeks of quality since the internal parts are composed of petals, including the milk froth tube as well. Hence, you can expect this piece of beauty to serve you for a very long time without any issues.

You won't be needing to wait a lot if you have the Hamilton Beach Espresso machine by your side. It is capable of brewing and froth at a rapid speed. Thereby, giving you the best possible espresso in a jiffy.

Bottom Line:
Considering it's price, it's a treat! The excellent features and durable quality of this espresso machine provides good value for money.
Best Espresso Machine Under 200 – Buying Guide
Since there are so many different types of espresso machines in the market, all from various renowned brands, packed with extraordinary features, one can get confused with what to buy. In this buying guide, we'll list down a few essential things that you should consider when you're buying an espresso machine.
Easy Usage
If you're new to espresso machines and know little about what to do and how to work them perfectly, then this is a significant factor to consider. An automatic espresso machine offers the most exceptional ease of usage so you can grab one of those.
Ease of Cleaning
Keeping the espresso machines clean is a critical factor in determining the life of the espresso machine. Cleaning should be easy so that you can do it often. Make sure that the parts like the drip tray, milk reservoir, etc., all are removable so you can take all the parts out and carefully clean them, to make your machine last longer.
Customer Service
Customer service is also an essential factor to consider in your purchase. A lot of things can go wrong with these machines. If your brand isn't offering good customer service, we would suggest opting for another one because you don't want to be left in the dark, when you need help with your product.
Cost
The cost of the espresso machine is also essential. An expensive machine doesn't need to be a great one too. Look for a cheaper price and more features in a machine as that will give you the best value for your money.

Final Thoughts!
In conclusion, if you're a coffee lover and not looking to break the bank, then the products mentioned above are some of the best espresso machines under $200 that you can get your hands on.
Mr. Coffee Espresso & Cappuccino Maker is the best 3-in-1 espresso machine(espresso maker, cappuccino maker, and latte maker) and our editor's pick. If you are looking for the stylish espresso machine for your modern kitchen, then Klarstein Passionata Rossa 20 is highly recommended. And, if you are looking for the premium quality espresso machine in affordable budget then Hamilton Beach Espresso Machine is the best choice.